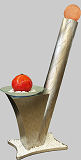 Waterobject "Earth"
"My works"
LUXURY means UNIQUENESS; it is according to this motto that my elaborately configured art and design objects are designed and manufactured from absolutely high-grade components in genuine hand-craft work.
Wherever you admire may luxuriously appearing unique pieces, in museums, art collections, hotels, companies and also in private living quarters, you may be certain that this is an "Original Tremel". In my sophisticated and vanguard small series as well, no piece resembles the other one. These valuables are hand-crafted individually and signed by myself too.
It is old, precious trunks from the nearby Nymphenburg Castle Garden, sometimes also from the Austrian mountains and the remaining European regions. After years of storage I process them appropriately for the respective material, taking into account ecological principles. The final surface treatment is based on traditionally approved recipes without any chemical, noxious toxic substances.
Your enthusiasm for my creativity and the unique quality forms the basis of my success, also that you feel this creative arcing in each of the uniques manufactured.